Life is filled with unforeseeable events, such as a fender-bender on the way to work or sudden water damage at home. In these situations, it's important to know that you can rely on your insurance policy to protect you.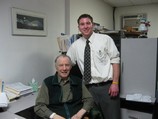 With three generations worth of experience, we strive to help you find insurance solutions tailored to your individual needs. We can provide you with quotes from many well-known and trusted insurance companies for your home, auto, and commercial insurances.
We invite you to explore our comprehensive consulting services and get to know our knowledgeable and friendly staff!
Accidents can take place in the blink of an eye, but the consequences can be far-reaching. Be sure that your automobile insurance has you covered.
Homeowner's insurance is one of the most important policies you can own. Find out what sort of coverage your policy should provide.
Fire, storm, water damage — your commercial real estate is vulnerable to many risks. We'll help you determine your coverage requirements.
Whether you're an individual seeking a particular type of bond, or run a business with a variety of bonding requirements, Matetich Insurance can provide a surety program tailored to your needs.